Ecomonics
I love economics and how economic theories have advanced and declined over the generations. Perhaps one of my favorite communicators on an economic theory I subscribe to is Milton Friedman.  Friedman's 10 part series that that played a few decades ago.  In the series, he weaves stories and is faced by a panel of peers that agree and disagree with his beliefs. He's famous for many analogies but the pencil manufacturer is probably one of his most famous.
Friedman's appearances on Phil Donahue, the Oprah of his time brought economics to the masses. His debates with Phil are very telling in Donahue's leanings and how amazing Milton was as the art of debate:
Friedman's 10 part series on PBS featured great stories, Milton's philosophy and a debate panel of economic experts that are for and against his theories.
Friedman on the Road To Serfdom – HERE and Friedman vs Bernie – HERE
Where Friedman was at his best was during a college campus Q&A session. Here's one of my favorites:
And Milton on what is America:
The debate of the last 100 years has been John Maynard Keynes and F.A. Hyack regarding their boom and bust cycles and the roll of government intervention in markets through interest rate manipulations. These two economic rap videos make it fun to learn the philosophies. Sadly, Keynes has dominated and $20 trillion later what do we have to show for it?
and part 2
Here's a deeper dive into Keynes and Hayek.
I'm pretty contrarian on where we are as a county. The role of central banking in the last 45 years will be looked on as having major manipulations of markets. Between debt loads, crony capitalism, and easy money policies, we are so far removed from reality it scares me. This will not end well, the markets always correct itself.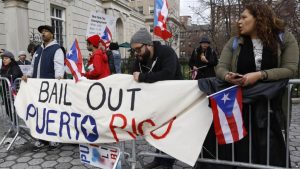 Want to know how bad the problem really is? You can point to Detroit (probably one of my top 5 interviews), or Illinois, or New Jersey but nothing compares to what's going on in Puerto Rico.  This AEI panel discussion is long, about 2 hours, but the math surrounding the obligations of the tiny island will shock you.  Whomever green light lending these kinds of dollars to this Country should get the haircut they deserve. Sadly, over promised public pensions and crippling debt may leave Puerto Rico with the only option of going hat and hand to Congress.
Government Helping
Speaking of government warping markets. I'm not talking about health care or affordable housing, let's take a look at higher education:
Spent the weekend up in Phoenix and all over the radio, on billboards and in print magazines I saw ads for the UofA MBA program……why? Hint, it's where people can afford and can benefit from a Masters in Business.

In the past few years, tuition has increased, we've built a new stadium, a student gym/pool, hired two deans for diversity and inclusion, a social justice advocate (story picked up nationally as a snitch position).

Then from today's Tucson paper:

The UA also opened a site in Cambodia last year and plans to launch 11 more as follows:

UA Amman at Princess Sumaya University of Technology, Jordan
UA Bandung at Telkom University, Indonesia
UA Beirut at Lebanese International University, Lebanon
UA Hanoi at Vietnam National University
UA Hualien City at Tzu Chi University of Science and Technology, Taiwan
UA Manila at De La Salle University, Philippines
UA Puebla at Universidad Popular Autónoma del Estado de Puebla, Mexico
UA Shanghai at Shanghai University of Politics and Law, China
UA Sharjah at the University of Sharjah, United Arab Emirates
UA Shenzhen at the Harbin Institute of Technology, China
UA Taipei at Soochow University, Taiwan
Tucson students with the means to travel would be able to take UA classes at any of the international sites.

It is the 150th anniversary of the Morrill Land-Grant Act of 1862, which led to the establishment of public land-grant institutions including the UA.

I wonder if the UofA is sort of losing their mission to the scholars of Arizona. It's an interesting debate but as ITT Tech and Univ of Phoenix get their hands slapped for being for profit, how is the UofA's use of public/private funds to do all of the above a good thing?
Cant Escape The Market Forces
Some of the thought leaders that I seem to be agreeing with more and more include Richard Duncan. Here's an interview he did with Gordon T Long:
Another contrarian that has actually been a major player in the Reagan administration that I follow is David Stockman.
Jeromy Grantham is the co-founder of GMO capital. His quarterly newsletter is a must read. Here he is with Charlie Rose:
Speaking of Contrarian –
Give a listen to Econo Talk's interview with CATO's David Boaz, and columnist/authors P.J. O'Rourke and George Will.  Will make an interesting point about since the Great Depression there have been very small moments in time where liberals actually had control and a 'mandate' to govern. Those times started with FDR and a two year period where he attempted to pack the Supreme Court.  LBJ and a two year period where the War on Poverty, Social Security, and Medicare came into existence and the 2008-2010 period under Barack Obama. During these brief two-year periods, major shifts to the left occur, the voters shift back to a center-right government and the laws enacted during those periods are extremely difficult to undo.  Think Obamacare.  Jump to 46:00 where Will takes down Academia.  The panel talks about 'Dictator for the Day Legislation' and they weigh in on how to fix America. The ideas and suggestions include;
1. Get government totally out of K12.
2. End tax withholding.  Make people write out their payroll withholding payment. By the way who is FICA?
3. Term limits or incumbents can't stand for re-election if the government is in a deficit of more than 1% of GDP.
4. On all government deficits – all the taxpayers would be assessed on their tax form.
5. End of 1040 has tax payers fill in where they want their money to go…and have a line for 'send my money back to me'.
6. I particularly like the idea of a balanced budget amendment passed by the States.  I also like electing Senators from State Legislatures instead of by popular vote. Both of these ideas bring power back to the States.
Why are Libertarian ideas not taking root in the world? The answer is at the end of the podcast. Basically, it's hard for people to accept that work, thrift and delayed gratification is good for you. That's a tough political platform in this day of instant gratification.
This episode of EconTalk is being recorded in front of a live audience in Washington, D.C. in honor of the 40th Anniversary of the Cato Institute. Our topic is the past, present, and future of liberty. And to talk about it we have three special guests, David Boaz…, P. J. O'Rourke…, and George Will…. So, I want to start with the state of liberty in America. Is the glass half full or half empty? David, why don't you lead us off?

Russ Roberts: I'm going to pile on. And I'll let David and P.J. react accordingly if they wish. So, David, you pointed out marginal tax rates have come down, but government hasn't gotten any smaller. Government continues to get larger. The nanny state continues to be more intrusive. Economics gets, as you say, the welfare state and various regulations–some have gone away. The cost of this is that everything that is bad about the current system is blamed on markets, even though it's not a market process. So, the fact that United once dragged a passenger off a plane with Federal agents is an indictment of deregulation now. I've actually read things like that. Or that airline travel is so horrible because it's just cheap. Or, the health care system proves that markets don't work–when of course we've managed to remove almost every bit of market process that could be there to start with. So, on the facts I think it's a tough argument that the glass is half full. Do you want to push back against that?
Talk Radio Guy Reflects – Sounds Familiar
I got to say that when the latest Krista Tippett podcast interview featuring Glenn Beck came on I immediately thought ….nope, can't do it.  After listening I have to say his journey and his summation of where we are as a country is a spot on.  Like Beck, I spent years on the air in conservative talk radio. Day in and day out for 7 years I devoured every bit of news, followed the story of the day, spun, entertained and started to see patterns. Like Glenn, the intense journey of a daily radio show can really change a person. The very nature of talk radio is focusing on the negative. I started my media career at the election of Barack Obama. During his entire presidency, I had a ringside seat.  About 6 years in, I started to see these major patterns that really started to paint a dark picture on the future of our society. I compiled the patterns and am in the process of putting the concepts into a book.  The book intro is open to view on this blog – HERE.  In this interview, Beck opens up, sees his role as fear mongering entertainer and the damage he'd done to the country.  Like Beck, after the craft of interviewing is perfected, once you a covered the outrage of the day for the 1000th time after the ego has been built up and the adorations have been logged you start to look at your role as a thought leader. You start to realize that you are now part of the problem and ultimately part of the solution.  I tuned out from Beck because to me he was entertainment and I'm hungry for knowledge and explanations. After this interview, his vulnerability and his realization of his mistakes came across loud and clear. Today I bought one of his recent books and I'm going to start listening again. His journey is my journey and I really really get where he's coming from. Glenn Beck and Samantha Bee – HERE
If I'm going to reference economic theories that I subscribe to, I would be remiss if I didn't dig into the ideas of Adam Smith.
Here are some thought-provoking documentaries that line up on both sides of the political aisle. The common theme is the intersection of government, banking, and business
The common theme is the intersection of government, banking and business isn't good for the economy and our future.  I can take issue with individual arguments but the overarching themes are important to digest.
Overdose: The Next Financial Crisis
Requiem for the American Dream
EconoTalk with Russ Roberts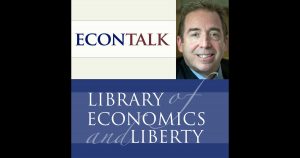 Another podcast I enjoy is EconoTalk with Russ Roberts. He and Tyler Cowen (to some degree Malcolm Gladwell and the team at Freakonomics) help take complex subjects, package them in palatable terms and deliver them to us listeners.  This week, Russ interviewed Phillip Auerswald
Give it a listen HERE
About 5 years into my 7-year radio career, after the 2012 election, I started noticing patterns that didn't point in a positive direction with respect to the future of our Country.From 25 topics I've winnowed the list down to 12.  I'm working on the outline of a book with a working title of the Dozen Trends that Spell the End of a Great Civilization.   Philip Auerswald, hit chapters  3 (flight to the cities), 9 (demographics is destiny) and 11 (polarized political parties).
There is a lot of trade offs with the 50 year migration from an agrarian and rural economy into the city, but there are also social ramifications that are right now being played out.
(Exert from my book) -The Decline of Rural America and Rise of The Blue Wave

As America moved from a rural, agricultural population and economy to what's now densely populated urban megalopolises the entire fabric of America has changed. The small town I grew up in 40 miles east of Minneapolis is a perfect example of what's happening all across America. New Richmond Wisconsin was once dominated by small dairy and beef farms. With a population of under 5,000, the area was settled by Irish and Norwegian immigrants. Large families, one stop light towns, a strong faith-centered community was the way I remembered my upbringing.  My grandparents had a small farm with a butcher shop just outside of town. People would make the rounds to the baker, the butcher and spend an hour talking about the happenings of their families and their community. Our small town is now a bedroom community to the Twin Cities. The farmland has given way to housing tracts. In search of cheap housing and fueled by expanded interstates, the 40-minute drive to the jobs of Minneapolis is now a daily occurrence for thousands of workers. With the conversion of small family farms to master-planned neighborhoods, something is lost. The intimate understanding of your community and the 'we are all in this together' attitude that built America has given way to gated neighborhoods and walled off subdivisions.

Through the 1800's cities like New York and Chicago were exemplified by immigrant neighborhoods, political machine politics, corruption, and exploitation. With the growth of megalopolis cities now almost in every state the same political machines have become much more sophisticated.  The community I live in, Tucson Arizona and Pima County has been dominated by democratic machine politics for over 25 years.  Once the machine is in place, they draw favorable electoral maps, they count and understand who votes and where. Patronage to favored developers, road contractors who in turn fund and underwrite political campaigns is the norm. The public sector unions understand that electing the right council or board of supervisors is good in the short run towards pay incentives and pension payouts.  While property taxes, sales taxes, impact fees and regulations increase to pay for the bloated promises, the business class, job creators find the community unfriendly and difficult to do business in.  Tucson has been compared to the Detroit of the Desert with flourishing suburbs and a decaying city core. There is always a push for revitalization or tax credits for favored industries in the name of spurring a resurgence to the inner city but these giveaways never see to last. Without a true level playing field with predictable rules and regulations my city, like hundreds around America have seen their tax base dwindle and their opportunities dissipate.

Political Machines

Political machines create an army of loyal professional bureaucrats. The bureaucracy knows to toe the party line. The politics of 'no growth' or 'environmental activism' or just plain old patronage takes root and it's even harder to dislodge the culture of patronage once it's established.  At their worst, they just become a kleptocracy, too entrenched and handing out too many benefits to be uprooted. And the cost of maintaining the patronage system does real harm to the services the government should be providing.

This is not a victimless crime. Look at New York, where public unionized employees can make close to $100K a year + generous pension for jobs that would pay half that in the private sector.  Great for those who have the jobs, but it means the city can't fill the potholes or paint the subway stations. It's not a handshake with a wad of cash, its unions getting cush contracts in return for mobilizing their workers at the ballot box. People should be paid fairly, with benefits, for work done, not given free money just for being part of a system.