RADIO DUO TO COMMUTERS – 'WAKE UP!'
OV's DeSimone, businessman Higgins focus on local business, politics
Posted: Wednesday, January 6, 2010 12:00 am
Patrick McNamara/The Explorer, "Wake up Tucson" host Joe Higgins makes his point during a recent broadcast of the AM radio show. Higgins and Chris DeSimone join forces five days a week to talk local politics and business.
Vindication arrived early Friday, Dec. 18 for the hosts of a local radio, "Wake Up Tucson."
A story hit the papers that day which ranked Tucson one of the most business unfriendly communities in the nation — 95th on a list of 100 cities.
"That's what we've been saying," show host Joe Higgins said as his producer Ed Alexander brought the newspaper into a closet-sized studio.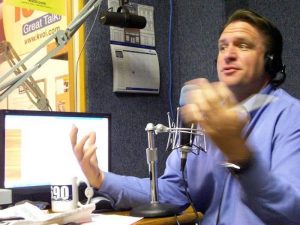 Broadcasting out of a small, dark radio studio on Tucson's South side, Higgins teams up with Chris DeSimone five days a week from 6 to 8 a.m. to host "Wake up Tucson," on the AM frequencies of 1030 KVOI.
Like many talk shows, extended rants mixed with listener calls and a few interviews punctuate a steady stream of political indignation.
But the hosts of "Wake up Tucson" offer something most shows don't: hyperlocal content and at least a semblance of a plan for change.
Almost since the start, the pair has railed against what they see as a fragmented and leaderless local business community.
Lackluster business performance, a perception of behind-the-scenes dealings, political favoritism and the general ineptness that both hosts say plague Tucson's political and business communities have been the common themes of the show since its inception.
The radio duo places the blame for a lack of organization or a unified voice rising from the business community squarely at the feet of the Tucson Metropolitan Chamber of Commerce.
DeSimone minces few words when talking about the chamber.
"They're the No. 1 reason the business community is as splintered as it is," DeSimone said. Higgins and DeSimone have gotten behind a movement to force a change in leadership at the chamber.
Local government takes its lumps on the show, too, with the big target of vitriol: The floundering Rio Nuevo revitalization.
A recent guest to the radio studio related her problems with the City of Tucson and Rio Nuevo bureaucracy and the Tucson Metropolitan Chamber of Commerce. Jewelry maker Konstantina Mahlia, who owns Mahlia's in the city-owned Train Depot building on Toole Avenue, told the hosts that her boutique shop has struggled during the sporadic downtown revitalization efforts.
Sparse parking and restricted access initially plagued her small storefront. But after the city council hatched a plan to give Depot-tenant Maynard's free rent while providing her no such concessions, she felt particularly set upon.
"She's fighting the hurricane winds of bureaucracy and bullcrap downtown," DeSimone said, later adding, "For the elected, I know some of your staff listen, you should be pretty disgusted with yourselves."
Mahlia also shared her troubles with the Chamber of Commerce, who she said offered to help her with her city problems only if she paid the $500 membership fee.
The story dovetails nicely into the hosts' two preferred targets — regional governments and the chamber of commerce.
Slide1For all intents and purposes, the two fell into the radio world.
DeSimone was the co-host of a Saturday-afternoon business show that had run its course. He and Higgins began to kick around the idea of doing a local political talk show together just at the time KVOI was going through some changes.
When they pitched the show, the station's morning star, John C. Scott, had just decided to leave for a job as head of programming at another station. And just like that, the two found themselves on the air.
"The whole idea of the show is that you're at a Denny's somewhere and you hear
this awesome conversation in the booth next to you," Higgins said.
Now that conversation has attracted quite a few eavesdroppers — enough that they've earned one of radio's choicest slots, the morning commute.
Originally slated for a one-hour spot from 6 to 7 a.m., program directors at the station decided to give DeSimone and Higgins an extra hour, locking down the bulk of the morning rush hour.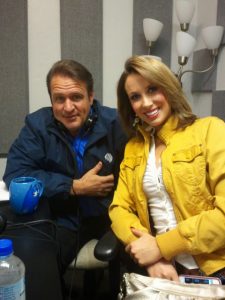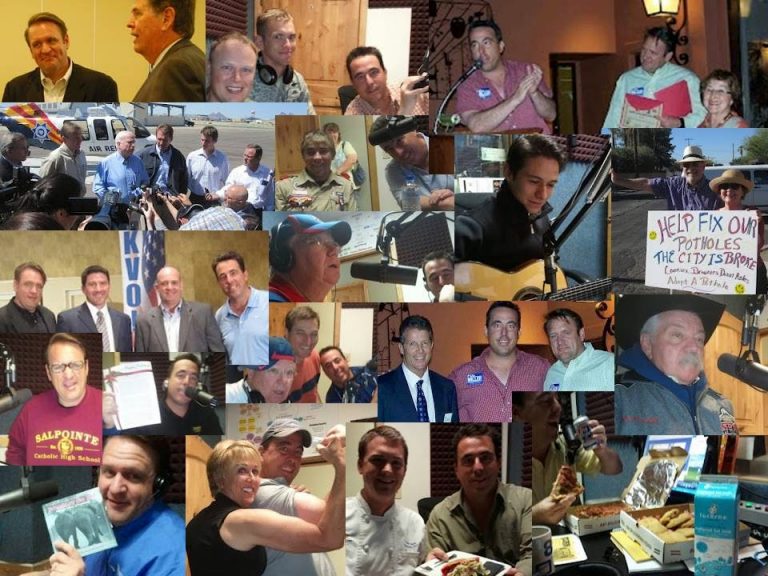 notice too, with city council members and mayors of Tucson, Oro Valley and Marana, state legislators and Arizona Superintendent of Public Education Tom Horne all making stops at the show.
For the uninitiated, Higgins developed a chart, often referred to on the broadcast, which shows the centers of power and influence driving politics and slowing change in Southern Arizona. The biggest spheres of influence on the chart are two overlapping circles made up of Pima County and Tucson bureaucracies and elected officials. Pressing for influence are environmental and neighborhood interest groups along with a mishmash of business interests.
But with multiple chambers of commerce and groups representing the business community, Higgins said there's no one unifying voice to speak for local business.
According to Higgins, it's so bad that the region's political leaders don't have a clue who to go to in the local business community when they need input.
"I've talked to bureaucrats and political figures and asked who they call in the business community, they said they don't know," Higgins said.
With neither host residing within the city limits, why do they focus so intently on Tucson politics and business community machinations? DeSimone is blunt.
"That's where all the problems are," DeSimone said. "What goes down in the city and county affect all of us." He lives in Oro Valley, while Higgins resides in unincorporated Pima County.
They both also have deep roots in the regional business communities, Higgins as the owner or partner in numerous businesses and DeSimone the owner of a business consulting company.
Higgins also has tried his hand at politics, narrowly losing a Republican primary bid in 2008 to take out Pima County Supervisor Ann Day. Since then, his profile in local politics and business has been on the rise.
A running joke on the show has DeSimone chiding Higgins for the number of boards of directors he sits on.
"If you want to effect change, you have to be at the table," Higgins said.
Asked what's next for the show and the hosts, Higgins and DeSimone are uncertain.
"Total domination," Higgins said.
"Yeah," DeSimone add, "Like 'Pinky and the Brain.'"
'Wake up Tucson'
Chris DeSimone and Joe Higgins take to the airwaves Monday through Friday from 6 to 8 a.m. on 1030 AM.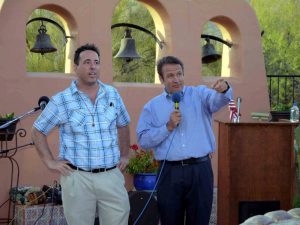 Ted Nugent on Tucson as Detroit of the Desert
Chicago Tribune Column – John Kass
Do We Even Have States Anymore?