Biography
Who Is Joe?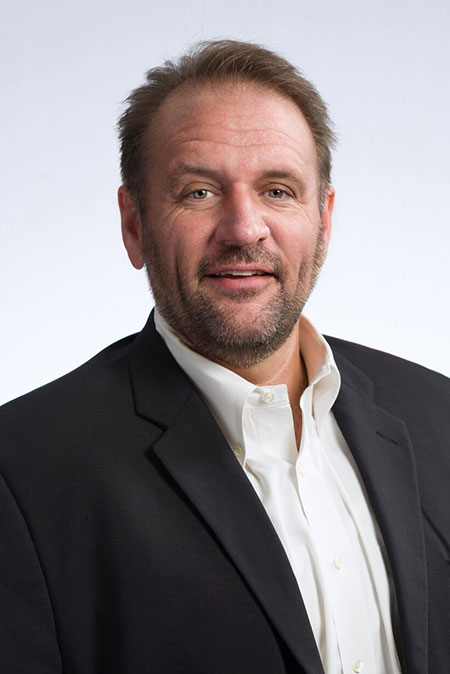 He was born in a New Richmond, Wisconsin and moved to Tucson Arizona in 1976.  In Wisconsin, Joe was raised in a small farming community where his family operated a beef cattle operation.  He learned the benefits of family and community support and the ability to work hard to achieve goals.
Joe is a serial entrepreneur, change agent, radio personality, candidate for office, developer and CEO in the medical and charter school arenas.  He has identified, started, grown and stabilized several businesses in southern Arizona, New Mexico, and Colorado.
Joe is married to Christine and they are the parents of Hailey and Jack.  Joe is a father, community leader, business owner and supporter of local charities.
What Is Joe About?
This poem sums up a path for living a full life.
The video below is a special moment with Principal from Colorado, Jason Edwards and Director of Professional Development, David Towne (meet David
HERE
), reciting IF to the staff in Colorado. 
The money line;  "If you can make one heap of all your winnings, And risk it on one turn of pitch-and-toss"
Here is Joe's favorite poem by Rudyard Kipling, 
If you can keep your head when all about you   
    Are losing theirs and blaming it on you,   
If you can trust yourself when all men doubt you,
    But make allowance for their doubting too;   
If you can wait and not be tired by waiting,
    Or being lied about, don't deal in lies,
Or being hated, don't give way to hating,
    And yet don't look too good, nor talk too wise:
If you can dream—and not make dreams your master;   
    If you can think—and not make thoughts your aim;   
If you can meet with Triumph and Disaster
    And treat those two impostors just the same;   
If you can bear to hear the truth you've spoken
    Twisted by knaves to make a trap for fools,
Or watch the things you gave your life to, broken,
    And stoop and build 'em up with worn-out tools:
If you can make one heap of all your winnings
    And risk it on one turn of pitch-and-toss,
And lose, and start again at your beginnings
    And never breathe a word about your loss;
If you can force your heart and nerve and sinew
    To serve your turn long after they are gone,   
And so hold on when there is nothing in you
    Except the Will which says to them: 'Hold on!'
If you can talk with crowds and keep your virtue,   
    Or walk with Kings—nor lose the common touch,
If neither foes nor loving friends can hurt you,
    If all men count with you, but none too much;
If you can fill the unforgiving minute
    With sixty seconds' worth of distance run,   
Yours is the Earth and everything that's in it,   
    And—which is more—you'll be a Man, my son!
What's Joe Into?
 Listening To (Stitcher Podcast App)
 .
The Art of Manliness
The Psychology Podcast
Hidden Brain
AEI Events Podcast
Finding Mastery
TED Radio Hour
The Learning Leader Podcast
StoryCorp
Conversations with Tyler
EconoTalk
Jordan B Peterson Podcast
Super Soul Sunday
Revisionist History
Marketplace -NPR
KCRW's Left, Right & Center
Secure Freedom Radio
EntreLeadership Podcast
London School of Economics
Mises Weekend
HBR IdeaCast
Backstory with American History Guys
Exchanges at Goldman Sacks
99% Invisible
Conversations with Tyler
Ken Rudin's Political Junkie
Blogs and News
Real Clear Politics
The Hill
Market Oracle
Lew Rockwell
Zero Hedge
American Thinker
Conversable Economist
KevinMD
AEIdeas Blog
Education Dive
FlipBoard
Reading
(Shop Amazon HERE to support kids)
How To Win Friends and Influence People – Dale Carnegie
Instant Report – Michael Brooks
Rich Dad Prophecy – Robert Kiyosaki
Grit – Angela Duckworth
Five Dysfunctions of A Team – Patrick Lencioni
Leadership Contract – Vince Molinaro
Linchpin – Seth Godin
Good To Great – Jim Collins
SPIN Selling – Neil Rackham
4 Hour Body – Tim Ferriss
Tipping Point – Blink – Malcolm Gladwell
Washington – Meg Greenfield
The Oz Principal – Roger Connors, Tom Smith
Change The Culture – Roger Connors, Tom Smith
The E Myth Revisited – Michael Gerber
America Alone – Mark Steyn
It's Your Ship – Captain Michael Abrashoff
The Ultimate Question 2.0 – Fred Reichheld
Nuts! Southwest Airlines  – Kevin and Jackie Freiberg
Joe's Philosophy on Business and Leadership As Told By ….
Give a listen to these three podcasts from leaders in their fields. First, Craig Groeschel, one of America's largest megachurch pastors. Second, Marty Callner, a Producer with a hunger to create, attention to detail and working towards a long body of work to be proud of. Third, Andy Rachleff on the nuances of servant leadership, setting a vision and building a team. 
1. Personal Mastery 
Risk – Creativity, and Purpose
Finding Mastery, interview with Marty Callner. Callner shares Joe's philosophy on risk, creativity and digging in deep.  
Callner's diverse resume includes specials starring Chris Rock, The Rolling Stones, Justin Timberlake, Madonna, Whitney Houston, Bette Midler, Jerry Seinfeld, Will Ferrell, Garth Brooks, Diana Ross, Britney Spears, and Robin Williams, to name a few.
Here are some parallels to listen for in the Callner interview;
2. Leadership Style 
Innovate with Stability –
Giving Up Control –
Creativity As Leader
Art of Manliness: Listen for parallels to Joe's leadership style to include;
How does Craig Groeschel continually innovate while also maintaining stability?
How does the large organization stay agile?
Why Craig Groeschel fights against rules
How to give up control as a leader
How Craig balances the CEO aspects of his job with the creative aspects
Fighting the loneliness and isolation that comes with being a leader
Dealing with criticism and critiques How to figure out which criticisms to pay attention to and which to ignore?
Long-term planning and setting a vision for a large organization
.
3. Servant Leadership 
Learning Organization
The Learning Leader Show – Episode #291: Andy Rachleff – What Do You Uniquely Offer That People Desperately Want?
Show Notes That Relate:
Commonalities of sustaining excellence: Intellectual curiosity 
Ask questions "Bright people think other smart people ask questions."
The leader creates the culture "People model the behavior of the leader."
"To be a great teacher, you have to synthesize something into small statements.  This helps you be a better leader."
Value statement – "Give trust to get trust."
"Management is not for everyone.  People want to be led, they don't want to be managed."
"You must put the needs of others in front of yourself"
His superpower? Dunbar's Law — 150 people.  "The #1 job of CEO's is to create a context for people who report to them" 
What Andy looks for when hiring someone: a Track record of success. "You learn a lot from success professionally.  You learn more from failure personally."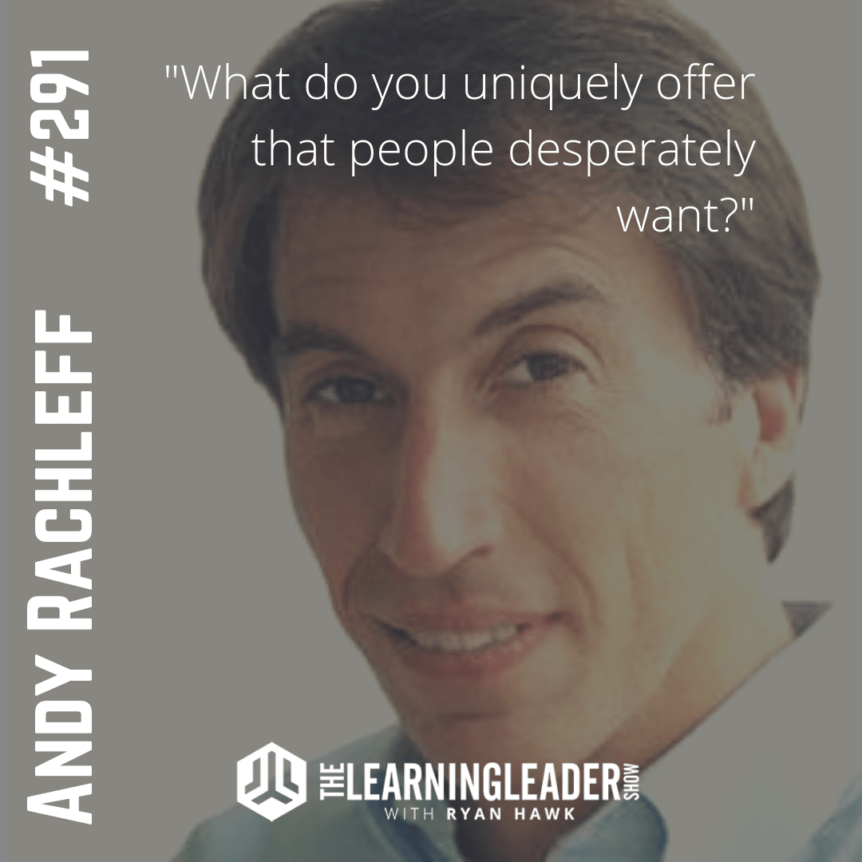 More on business background – HERE
More on community service background – HERE