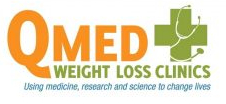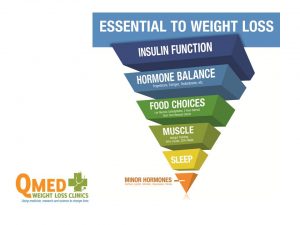 QMed is designed to be an add on revenue source to a general medical practice.  Every day, Providers are diagnosing patients with weight related chronic diseases.  The tools a medical provider has are limited primarily to a pill to control symptoms. The root cause of the diseases, obesity, goes untreated.
Weight loss centers are emerging in popularity because of the never-ending supply of patients that require weight management and the abundant new income source that is created for a medical practice.
With obesity on the verge of surpassing smoking as the #1 cause of preventable death, Primary care physicians owe it to themselves and their patients to provide the most current information and weight treatment options available.
The QMed Weight Loss and Wellness Program is a medical practice which focuses on the diagnosis and treatment of the increasingly common and dangerous problem of obesity, and its attendant health problems.
The problems of weight control which men and women experience are unique due to a variety of gender specific factors, including hormonal, metabolic, physiologic as well as societal.
Patients initially undergo a thorough assessment of their medical, family and social history as well as a detailed physical examination and appropriate laboratory testing.
Those who are determined to be appropriate candidates for weight reduction will have an individualized weight loss plan of care developed for them addressing diet, exercise, behavior Slide6modification, medication (as appropriate), and follow up strategies for effective, safe, and sustainable weight reduction.
The QMed Weight Loss program will address numerous causes and contributors to obesity:
Social (Ideas and techniques to overcome food patterns)
Behavioral (Why we eat more than we need?)
Cultural (how diet and cravings are established and learned)
Physiologic (hormones, thyroid, general health)
Metabolic (muscle mass, age, general metabolic syndrome)
Genetic (your particular body type – your genetic history)
Lifestyle (help you get up and get active)
Choice of Options and Develop Plan for Weight Loss Success
Rapid induction options – Pharmacology – Optifast
Slower induction options – diet counseling – exercise program
Food journals (online options, diaries or phone apps).
Supplements recommended – tailored to particular patient?
Cold Laser fat reduction machine. Discuss and enroll if necessary.
Ongoing Support
Weekly weigh ins and Doctor visit on Rapid Induction Programs
Weekly weigh ins and MA visit on Slower Induction Options – Doctor available if needed.
Support and education groups. Bi-Weekly or Monthly meetings in the conference room to educate and provide group support and discussion. Meetings are open to the public (way to market our Docs and program) and will feature guest speakers when available.Topics may include

Food choices (carbs, fats, quantities)
Emotional eating
Family history, genetics, body types
Yo Yo dieting and future success
Metabolic Syndrome and how to reverse it
Hormones, aging and weight loss
Sexual impacts of extra weight
Cardiologist talks regarding weight and heart health (Dr. Max)
Sports Medicine talk regarding elite athletes (Dr. Gerhauser)
Female or Male sexual health and weight control (Sandy)
Age Management and science (Dr. Mahalyi)
Weight control and environmental factors (Dr. Aven)
Aesthetics – Zorona, laser (ANA)
Medical research and advancements in weight control(Dr. Jack)
Loose a battle but win the war – fall off, get back on.
Exercise – cardio vs weight
Diet Types – zone, Atkins, etc.
Advancements in weight loss – drug trials
Anorexia, bulimia
Online communities and support networks – www.SparkPeople.com….others

Personal training services available – in on one setting or in a 'boot camp' format.
Periodic blood level checks to ensure all systems are in order.