Next Financial Crisis – DAVOS Panel Discussion
YouTube – HERE
This forum, hosted by Bloomberg, is from the World Economic Forum at Davos. This forum is the GLOBALIST crowd which is in contrast to Trumps, Make America Great Again movement.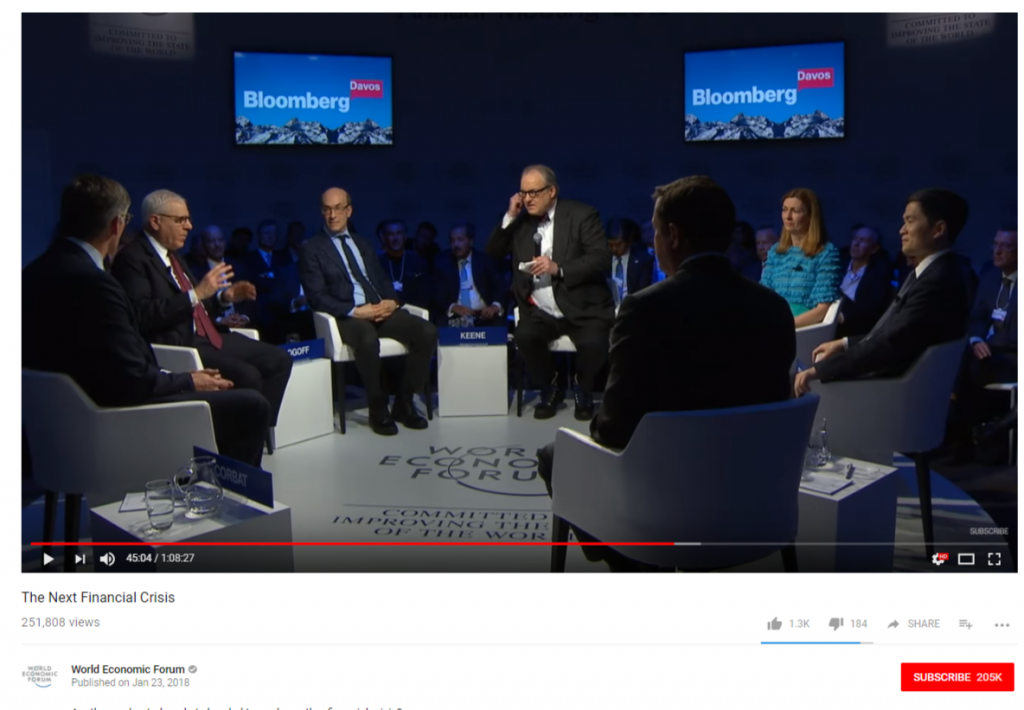 4:37 – What did we learn from the 2008 crash?
6:42 – We don't have even a Plan A?
8:44 – Monetary Policy mixed up.  Banks are in better position than ever before.
25:10 – Heavy regulators on banks
28:36 – The great banking QE experiment – Markets reaction to tightening of interest rates
34:17 – Recessions will happen, buy low sell high….DUH
47:00 – Discussion on technology as disruptors and the markets
49:00 – Chinese regulator explains what the second largest economy in the world will do in a crisis…hint, don't short China
52:30 – Increased interest rates mean a stock adjustment – China 'interest rates are a risk and so is regulators'.  People are regulators.
101:00 – Europe
105:00 – How does China manage a problem
World Economic Forum panel discussion with some of the largest banks, economists, and regulators in the world.  This discussion is full of some great insights into where we are and what would happen if an economic crisis should (eventually will) happen.
0
0
mainsiteadmin
https://joehigginsinc.com/wp-content/uploads/2022/12/JH_Colors.png
mainsiteadmin
2018-04-29 05:49:45
2018-04-29 05:49:45
Next Financial Crisis – DAVOS Panel Discussion