Lust – Denny Hastert Speaker of the House – Teacher – Child Predator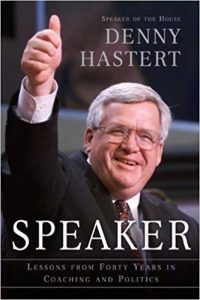 With regards to the 7 Deadly Sins and my ongoing series of identifying the manifestation of the sins in the news, nothing is more intriguing to me (for the moment) than the Denny Hastert story.
Hastert started out as a high school teacher and wrestling coach and rose to become one of the longest serving speakers of the House of Representatives.  He also has the historical place of being the highest-ranking member of US government to go to prison. As a teacher and coach, he was coach of the year in 1976 and lead Boy Scout troops.  All the while, we find out almost 30 years later that Hastert was abusing boys. At least three boys came forward and what actually got him in trouble was he was withdrawing structured cash transactions from a bank to pay bribes to one of his accusers.
He hailed from Illinois, who is known for their shifty politicians. (HERE)
How does someone go from teacher to multi-millionaire? Politics.  Lobbying contracts, land purchases that coincided with highway contracts and more. The irony in it all is, a man let's lust overtake him and he abuses his position of authority as a teacher/coach and abuses kids.  He then rises to the heights of power, enriches himself on the position he is given by the voters of Illinois and is then arrested for taking his own money out of his own bank in increments that he thought went undetected by federal banking laws.
National Review – It wasn't long after that the Sunlight Foundation reported on just how much Hastert thought himself qualified to steer earmarks back home. The foundation found that Hastert had used a secret trust to join with others and invest in farm land near the proposed route of a new road called the Prairie Parkway. He then helped secure a $207 million earmark for the road. The land, approximately 138 acres, was bought for about $2.1 million in 2004 and later sold for almost $5 million, or a profit of 140 percent. Local land records and congressional disclosure forms never identified Hastert as the co-owner of any of the land in the trust. Hastert turned a $1.3 million investment (his portion of the land holdings) into a $1.8 million profit in less than two years.

Hastert claimed at the time that the land deals had nothing to do with the federal earmark he had secured. "I owned land and I sold it, like millions of people do every day," he told the Washington Post. Or, as George Washington Plunkitt, the former Tammany Hall leader in New York, once said of someone who made a killing in local land that later became part of a lucrative subway development: "He saw his opportunities and he took 'em." Plunkitt called such "opportunities" a form of "honest graft."
The structured payments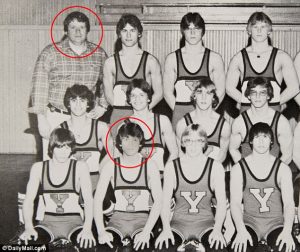 On May 29, 2015, after Hastert had been indicted for illicitly "structuring" financial transactions (see below), two people briefed on the evidence from the case stated that "Individual A"—the man to whom Hastert was making payments—had been sexually abused by Hastert during Hastert's time as a teacher and coach at Yorkville High School, and that Hastert had paid $1.7 million out of the total $3.5 million in promised payment.[11] On the same day, the Los Angeles Times reported that investigators had spoken with a second former student (not the person who was receiving payments from Hastert), who made similar allegations that corroborated what the first student said.[12] He admitted to sexual abuse during sentencing on unrelated crimes.[18][143]

On June 5, 2015, ABC News' Good Morning America aired an interview with Jolene Reinboldt Burdge, the sister of Steve Reinboldt, who was the student equipment manager of the wrestling team at Yorkville High School when Hastert was the wrestling coach.[10][144][145]

Hastert also ran an Explorers group of which Steve Reinboldt was a member, and led the group on a diving trip to the Bahamas.[10] In the interview, Burdge stated that in 1979 (eight years after Reinboldt's high school graduation in 1971), her brother had told her that he had been sexually abused by Hastert throughout his four years of high school.[10] Burdge said that she was "stunned" by this news and that her brother said that he had never told anyone before, because he did not think he would be believed.[10] A message from Hastert appears in Steve Reinboldt's 1970 high school yearbook.[10] In the interview, Burdge said that she believes the abuse stopped when her brother moved away after graduation. Jolene said that Hastert "damaged Steve I think more than any of us will ever know."[10]

Mr. Hastert, 75, the longest-serving Republican House speaker in history and once one of the country's most powerful politicians, pleaded guilty in 2015 to withdrawing $952,000 from his accounts at four banks in at least 106 separate transactions that were small enough to allow him to evade reporting requirements.
0
0
mainsiteadmin
https://joehigginsinc.com/wp-content/uploads/2022/12/JH_Colors.png
mainsiteadmin
2018-05-13 19:11:11
2018-05-13 19:11:11
Lust – Denny Hastert Speaker of the House – Teacher – Child Predator