Joe's "Rocky Point Mexico Inside Scoop" Guide
I've been heading down to Rocky Point  Mexico for over 20 years. I took a break for about 5 years because of all the media attention surrounding drug violence. In 2012, a radio station that I am affiliated with started taking passenger buses full of tourists down to make Mexico Safe Again! I travel to the sandy beaches about once per month and have explored a number of the nooks and
crannies and this post help share the best of the best in my opinion:
Where To Stay
The Penasco Del Sol is where I stay on the bus tours. The hotel is right in the middle of everything.  The staff is great, pool and right at the ocean. There are at the beginning of Ave 13th, which has taco stand and a bunch going on. Carla is the assistant manager and she is amazing and will help with anything. Get the extra foam on the beds by request.
If it's my wife and I we like to occasionally stay on Sandy Beach at one of the condo rentals. It's about 15minutes from town but all if the stuff is pretty close.  Sandy Beach is a different vibe as it's not a hotel but a series of condo developments that are individually owned and rented out. To book on Sandy Beach you are booking directly from a resident/owner or through a management company.  I usually go to VRBO to start.
The better properties for the value:
Any of the Sonoran's (Spa, Sun or Sea)
Bella Serena
Las Palomas (not Las Palmas) – Palomas is newer, can cool. It's really big so depending on the weekend it can be crazy.
Avoid The Princessa and Esmerelda is half constructed and it's been that way for years.
If you're bringing a big group Sandy Beach is a good central spot. You can book larger condos or a series of condos so everyone is at the same property.
Los Conchas, is the opposite direction from town but close. Those are all American houses and there are a bunch for rent. It's a totally different feel and it's catch as catch can for a good one. There aren't many options for food and the roads are sand but easy to access the rest of the town.
Cholla Bay is a spot to avoid unless 4 wheeling floats your boat. I have friends with homes there and we have a great time but for a random, once in a while visit, you probably want to work up to Cholla Bay.
When you go, to eat:
Pane Vino
(one of my favorite restaurant on earth…literally) It's up on hill near Sr. Capitans (which sucks by the way) and you can see great sunsets.  If you head to Capitans, drinks and the guacamole are about all I'd order. They are seriously phoning it in on the Mexican food, which is a shame.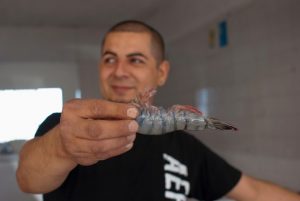 Max's – across the street from the Penasco Del Sol hotel. Max is owned by John. Great guy, American, knows us well.  Great bloody marys and Saturday Chateau Briand for 2 for $20. Pizza is good, any Mexican food dish is good, American sandwiches and burgers.  Can't recommend Max's enough for a great go to breakfast, lunch or dinner.
Rodeo Drive is cool shopping – Margarita and Tequila restaurant is amazing. For such a hole in the wall area it's unbelievable.
The Friendly Dolphin near the Malecon (fish market area) is great for authentic Mexican and they price in Peso's so it's muy cheap.  Great beef and all the fish dishes. Where I go for good Mexican food.
The Satisfied Frog on the Malecon (at the end) is an Arizona couple and they have awesome fried chicken.
A friend of mine from Tucson owns The Boo Bar. It's overlooking the water and worth the stop for a beer and a shot.
Kaffeehaus,  German breakfast –
Go here for breakfast. The wait can be long but it's really good.
Blvd. Benito Juárez García 216B
JJ's Cantina in Cholla Bay is an institution.  The vibe during the day and into the night is completely different. Depending on what you're up for, stop by for a beer and watch the ocean, or head in at night for wall to wall partying.
For car insurance –
The owner is Rosie, if anything happens she's American and will come help you out. Here's her email and drop my name – personal friends.  Rosie@proalliance.com.mx is her email. She's from the Los Angeles region and has moved to Rocky Point and set up shop.
Have fun, be safe and behave just as you would in America.
Puerto Penasco lives with tourists coming in and having fun. You are safe and everyone down there is glad to see you come and enjoy their beaches.
Joe
https://joehigginsinc.com/wp-content/uploads/2022/12/JH_Colors.png
0
0
mainsiteadmin
https://joehigginsinc.com/wp-content/uploads/2022/12/JH_Colors.png
mainsiteadmin
2016-08-17 07:44:54
2016-08-17 07:44:54
Joe's "Rocky Point Mexico Inside Scoop" Guide