There is a part of me that I haven't quite realized until just recently,  that part of me that needs to create.  A friend referenced a trait among people with dyslexia that involves the person overcompensating because of having to adapt their learning to assimilate. That overcompensation caused by dyslexia, allows a different part of the brain to grow. That part of the brain is creative.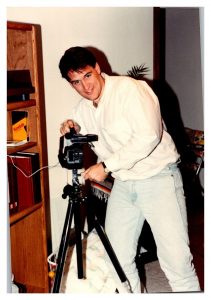 I never realized I had a mild form of dyslexia until during our discussion I told my friend about mixing up 'B's' and 'D's'. When he explained how his son and brother had a more severe form and how is research into dyslexia lead to the finding that different parts of the brain of a dyslexic overcompensate, a light bulb when on for me. I have to create.  At the core, the joy of entrepreneurship for me is taking an idea and bringing it to market. The longer I've been an entrepreneur, the more complex and sophisticated the business.  As I look back, money was never the motive, it was the joy of seeing what has been created. I love the ability to change people's lives through our businesses. I love the ability to figure out how to thrive when others have failed. To enter a new market and deliver something different is what keeps me going.
I've always had the ability to take super complex concepts, break them down and focus on what's the most important. By far, my 7 years in the medical field was the most intriguing and the most complex.  From the heavy regulations to the super smart medical providers I worked with, the medical industry kept me on my toes and always looking for the next opportunity.
My Creative Side;
Ever since I was a child I remember building elaborate cities out of toothpaste boxes.
As I moved into business, I taught myself basic graphic design with programs like Corel.
I started home video production and spent hours and hours editing sound and video into rudimentary YouTube videos.
I launched my first blog in 2008 (TucsonChoices)
7 years on the radio producing a 2 hour drive time talk radio program (Wake Up Tucson)
I was a columnist, writing editorials for a couple local newspapers (Inside Tucson Business)
I started a podcast on health care policy and political topics of the day  (Broken Healthcare Solutions)
My job involves building and designing complex charter schools. I'm on point for all aspects of design and construction (Leman Academy)
I'm slowly drafting two books….let's call them manifestos….one on the future of America and the other on the 7 Deadly Sins.
Part of my joy of building out Patagonia is, of course, sitting under and dreaming, but also deciding what to build where. Someday the money will come to see the plans come true.
I find that I go through lulls of creativity from time to time but then it kicks in again. I've got to keep creating!
0
0
mainsiteadmin
https://joehigginsinc.com/wp-content/uploads/2022/12/JH_Colors.png
mainsiteadmin
2018-04-25 20:44:02
2018-04-25 20:44:02
I Have To Be Creating!