Healthcare – Hospitals are Learning What Doctors, HMO's and Insurance Companies Already Figured Out. You Lose!
I spent 7 years in the medical industry and according to the Malcolm Gladwell, 10,000 Hour Theory, that makes me someone who can weigh in on the complexity and politics of the healthcare industry.  As an entrepreneur, I entered the industry looking for edges, opportunities, and ways to make money in one of America's largest industries, healthcare.
I did a turn around on a high complexity lab, I built a multispecialty practice from 4 to 14 providers, I started a medical weight loss business and a service company (Rainmaker Medical)  that had employees in Phoenix and Tucson and serviced a dozen medical practices. I lobbied and passed bills, I served on hospital merger committees, did a podcast on healthcare policy and started and lead research associations. I was IN the business of medicine.  After all my time and experimenting, I learned two important skills;
How to function in a highly competitive and complex market.  American medicine isn't about Doctors and Patients. It's about codes and contracts.  As a C level business leader in that industry, my business skills were put to the test.  I learned a lot about a super complex industry.
When to hand up the saddle and move on. I could see the end of my run in medicine coming when regulatory blocks kept coming as fast as I could come up with a new idea.
When I was in the industry from 2008 t0 2017 the big player that controlled everything was the hospitals. The power structure had shifted in America from the Doctors to the Executives and the HMO's in the 1990's (remember $5 co-pays?), then over to the evil insurance companies who got their lunch handed to them with the passage of Obamacare.  After 2010, the hospitals held all the cards and now it looks like they will be the next losers in politics of healthcare. Notice, in this long list of power brokers, the consumer is nowhere in site.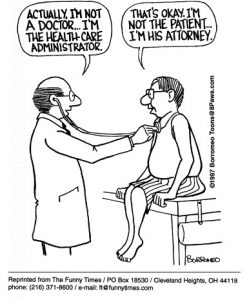 The solution? Stay healthy. As long as the power structure exists between the government and the industry the service will suck. Not until the power is between patient and doctor returns will anyone like what's happening to them when they need help.
In a phone interview with Bloomberg, Malhotra warned about the next wave of hospital closings that could be triggered in the next 6 to 18 months.
They "are getting eaten alive from these market trends," Perlman cautioned.

"Future M&A options could be too late – buyers may hesitate as debt-laden operators like Community Health Systems Inc. and Tenet Healthcare Corp. focus on selling underperforming sites to reduce leverage," Morgan Stanley's Zachary Sopcak said.

Some facilities are restructuring as outpatient emergency clinics with free-standing emergency departments. "Microhospitals," or facilities with ten beds or less, seems to be gaining a foothold across the country. They have been springing up as of late in multiple states, including Texas, Colorado, Nevada, and Arizona. Dignity Health, a health system with facilities in Nevada, Arizona, and California, is also considering the possibility of testing the model in California, Kaiser Health News reports.

As for the incoming wave of hospital closures that Morgan Stanley expects to hit in the near term, well, it is more bad news for rural America that seems to have been left out of the "greatest economy ever."
0
0
mainsiteadmin
https://joehigginsinc.com/wp-content/uploads/2022/12/JH_Colors.png
mainsiteadmin
2018-08-26 05:46:07
2018-08-26 05:46:07
Healthcare – Hospitals are Learning What Doctors, HMO's and Insurance Companies Already Figured Out. You Lose!