American Medical Care – Complicated and Expensive…On Purpose.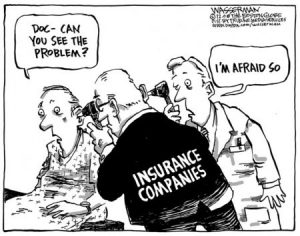 I spent a lot of years in the healthcare sector. I ran a high complexity lab, a small medical practice that I helped grow to a mid-size group with 14 providers. I drafted and lobbied legislation dealing with Direct Medical Care.  I started up a couple offshoot businesses that could be added to a medical practice and I built a lab services company that at its hay day had 8 technicians drawing blood for 7 different labs.  I've done presentations to a number of groups on healthcare policy, I had a short-lived podcast on the topic and I served on a couple of boards surrounding Banner Healthcare and clinical research and for the merger of the University of Arizona Medical Center and Banner.
CashMedicalcare.com
I started a 'Priceline of Medicine' which looked to match services to vendors. The goal was to help navigate the complex waters of medical coding and billing.  My idea was that in our third party …insurance pays everything….'what's my co-pay?' world, if the consumer knew what they were buying, they could shop more intelligently. My business was predicated on every rising deductible that forced consumers to fish into their pockets for more of their services.   After years of trying to find the entrepreneurial edges in the healthcare field, I finally had enough and made a career change to education.
Today, out of the Center for Medicare and Medicaid, the Trump administration is trying to bring educated choice into a super complex market.  Healthcare lives on confusion, denial of services, restriction of benefits and what I used to call 'wack a mole'.  To me, every time we found a new service or code that helped our patients and help the practice financially, the insurance companies would find the new revenue stream and wack it back into non-existence.
American healthcare is broken.
American healthcare has all the wrong incentives to ever get fixed.
American healthcare is robbing future generations of a prosperous life.
---
---

WASHINGTON — Medicare will require hospitals to post their standard prices online and make electronic medical records more readily available to patients, officials said Tuesday.

The program is also starting a comprehensive review of how it will pay for costly new forms of immunotherapy to battle cancer.

Seema Verma, head of the Centers for Medicare and Medicaid Services, said the new requirement for online prices reflects the Trump administration's ongoing efforts to encourage patients to become better-educated decision makers in their own care.

"We are just beginning on price transparency," said Verma. "We know that hospitals have this information and we're asking them to post what they have online."

Hospitals are required to disclose prices publicly, but the latest change would put that information online in machine-readable format that can be easily processed by computers. It may still prove to be confusing to consumers, since standard rates are like list prices and don't reflect what insurers and government programs pay.

Patients concerned about their potential out-of-pocket costs from a hospitalization would still be advised to consult with their insurer. Most insurance plans nowadays have an annual limit on how much patients must pay in copays and deductibles — although traditional Medicare does not.
0
0
mainsiteadmin
https://joehigginsinc.com/wp-content/uploads/2022/12/JH_Colors.png
mainsiteadmin
2018-04-30 18:42:50
2018-04-30 18:42:50
American Medical Care – Complicated and Expensive…On Purpose.