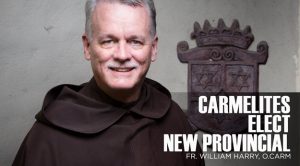 Excerpt from the homily given at Salpoitne Catholic High School Graduation May 2017. Fr. Bill Harry:
In St. Paul's letter to the Colossians that ______________ read, Paul describes the qualities we need to possess if we are truly going to be children of God: we must be clothed in compassion, kindness, humility, gentleness, and patience. Why? Why do I have to have those characteristics? 2 reasons really. One: because those are the some of the qualities of our loving God and so as Children of God we should make those a part of who we are as well. Secondly, because you have to model for the world the correct way of living with others. If I just say to you "Here is what you need to do" but I do not live that way with my life, are you going to be impressed or convinced that you should live that way? Absolutely not. You words will be meaningless if your life does not witness to those words. No one will be convinced to make compassion, kindness, humility, gentleness, and patience a regular feature of life. So make sure your actions mirror your words.
Paul continues on. "Be willing to forgive." Wow … where would our world be if we were willing to forgive? Forget about the world for a moment. Where would our families be if we were willing to forgive? What would our schools or workplaces look like if forgiveness was a principle quality of those communities? How different would our own lives be if we were more compassionate and kind, and patient with ourselves. Hopefully you learned to forgive during your days at Salpointe—it is a key ingredient for a successful life. A little forgiveness in our lives could really lead to a transformation of our world!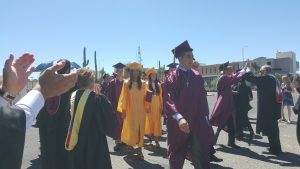 So no matter what class or extra-curricular activity you were involved in, each focused on equipping you with the skills and the passion for taking that big world we live in and making it a more just and peaceful and loving world.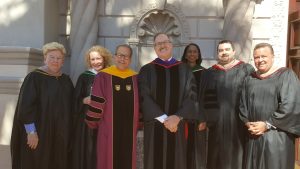 But this went beyond classes and extra-curricular activity. I would suggest Salpointe also provided you many unscheduled, unscripted moments where you learned how to connect with others around you, to be less focused on self and more focused on other: the friendships you made hopefully challenged you to be a better person. The hard work to become a member of one of the teams or clubs taught you the value of the gifts and talents that others bring to the community and the benefit that comes from working together.
You might have been challenged to be more aware of your responsibilities in a one-on-one conversations with a teacher, maybe even in those visits to the Deans office. You thought you were just going to high school. No!!!  You were gaining the tools needed to make a difference in the lives of people—starting with yourself.
That is what the last four years have been about: learning how you can participate in building the Kingdom of God! You have changed an awful lot in the last four years—perhaps more than you will change in any other four-year period of your life. And all of the energy of Salpointe—its staff, its teachers, its administration— has been focused on making sure that you are prepared and passionate about getting out there and doing your part in building the Kingdom.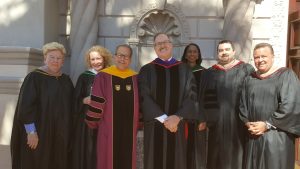 You might be saying: "That is what I was preparing for these last 4 years? Are you kidding me? I was focused on getting into a good college. I was focused on making the team." True. You were. Those are important as well. But behind that we were focused on getting you prepared to go out into the world and to make a genuine difference. Not to take you place in that world. But to create your place in our world using your God given talents.
We need more people in our world who are willing to listen to other peoples' stories, to get to know the life experiences of others and then respond with their whole hearts. Don't just give lip service to your faith in God. Allow your faith to transform you. Grow to love the people you inhabit this planet with— they might think differently than you do, they might look different than you, they might speak a language you cannot understand, they might even wish you harm— but each human being on this planet is created in the image and likeness of God and each one is a child of God. And when you come to realize that and believe it and live your life in accordance with what you believe, everything will be different. Although society may be saying you need to conform, you will know exactly what you need to do to stay true to who you are!
I think your teachers would agree that if you walk out of here today conscious of who you are and what you stand for, with a passion for living justly and peacefully, then you and we have done our jobs. But if you can only recite mathematical formulas or the dates of major world events, or only know how to play a sport, but have no empathy for those around you, then someone has not done their job successfully.
The Class of 2017. Sitting in front of me this morning are not only future doctors but, I hope and I pray, doctors who are going to help care for all, especially those who can least afford it. In front of me are not only future economist but, I hope and I pray, economists who will work to build a economic structure that is fair to all. In front of me are not only future creators of new tools for communication but creators who will renew our ability to communicate the Truth. In front of me are not only future teachers but teachers who will teach to enable young people to reach their dreams. In front of me are some who will live their faith commitment radically— so that our world really does have a chance of transforming back into the loving and just world that God first created. Whatever your career you choose, choose that career  because it will allow you to live intentionally, witnessing to God's presence within yourself.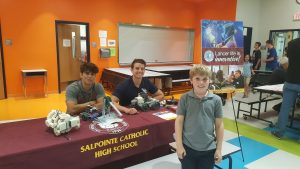 This is what it means to be a truly loving human being. And that knowledge of how and that commitment to do good is the enduring gift that I hope you take away from Salpointe Catholic! As _______ proclaimed to us from the beautiful reading from Ecclesiastes— there is a time for everything. Now is your time!
Congratulations to each of you and to your families. May God continue to bless you each day of your life—as you seek to do God's will in our world.        Amen.
https://joehigginsinc.com/wp-content/uploads/2022/12/JH_Colors.png
0
0
mainsiteadmin
https://joehigginsinc.com/wp-content/uploads/2022/12/JH_Colors.png
mainsiteadmin
2016-01-22 08:13:04
2016-01-22 08:13:04