Wednesday, 03 August 2016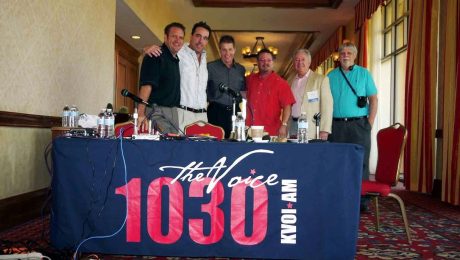 (Augus 31, 2016 – Facebook post to our listeners) Tune in this morning for the last show.
The final episode of M.A.S.H. the last episode of Seinfeld….this will be one for the record books!
It's been a long journey with my friends Ed Alexander and Chris DeSimone. After over 7 years we learned each others hot buttons, we know how to spark a good debate and we have an awful great time together waking you up. The stories of where people listen to us, how we've become part of their daily routine and what our listeners have learned about local and national issues is truly rewarding and humbling to hear.
There's a few people in local leadership that are glad to see me go but we've always tried to keep the criticism on the issues. I ran for office back in 2008 to make the community a better place for my children and all the small business of Pima County. Having been a serial entrepreneur, I've lived the struggle of making ends meet. I've dealt first hand with a stupid government regulation. On the show we try to give these stories a voice.
My work at Catholic Community Service lead me to run for office and then on to the airwaves. After years of working to solve the needs of the poor I learned that giving a man a fish isn't going to solve anything. My role was to teach men to fish. For me that meant jumping into the policy mix to debate the ideas of free markets and give a voice to those that were unable to rise up. The radio shows consistent message was working to create a level playing field for everyone.
I've met hundreds of great people. I've interviewed over 1000 members of my community and I've been on air, live every morning for 3758 hours. For every hour live we are prepping at least two. So according to Malcom Gladwell; "an extraordinarily consistent answer in an incredible number of fields … you need to have practiced, to have apprenticed, for 10,000 hours before you get good." I'm finally hitting the 'get good' of my professional radio career and I'm moving on.
I've always looked at where I was in life and fast forwarded to when I'm 90 years on and on the front porch rocking chair. When I have fear of a risk, or a hesitation on a major life changing decision, I always fast forwarded to the rocking chair. Would I have been better off playing it safe or taking a road less traveled. 7 years ago was one of those moments. I'm better off today having made that scary leap to jump on the microphone.
The radio show and deep dive into politics has made me appreciate the foresight that went into forming this Country. Those guys, back in the late 1700's understood how we'd mess up governance if we were left unchecked. I've seen some scary patterns in men/women that are given power. I've watched a very few political, or academic or business leaders stand up in the face of tremendous personal attacks to do what they think is right. Whether I agreed with their direction or not I've always respected someone with convictions. I've seen good leadership and a whole of lot of bad. The more I did the show, the more I learned. If I could boil it all down, I've come to realize that the invisible hand of the market will always correct what ails our society; it's just a matter of time.
Chris DeSimone and Ed Alexander will continue to wake you up each morning and I'll be sitting in from time to time.
Tune in this morning for local and national election results and the official Wake Up Tucson break down of the primaries. KVOI.com or 1030am the Voice – 6am to 8am.
Thanks for listening, I hope you learned, I hope we made you think and I hope you laughed.
If you want to catch up on old shows visit KVOI.com for podcast
Weighing in from time to time on a national podcast on the intersection of business and politics, check out Politics Sucks! Let's Talk About It.