Nuclear power has long been a contentious topic. It generates huge amounts of electricity with zero carbon emissions, and thus is held up as a solution to global energy woes. But it also entails several risks, including weapons development, meltdown, and the hazards of disposing of its waste products.

But those risks and benefits all pertain to a very specific kind of nuclear energy: nuclear fission of uranium or plutonium isotopes. There's another kind of nuclear energy that's been waiting in the wings for decades – and it may just demand a re-calibration of our thoughts on nuclear power.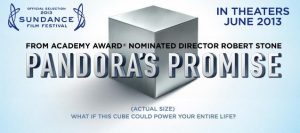 Speaking of alternative energy – still a big fan of nuclear – check out Pandora's Promise.  This documentary covers an environmental activist and writers mind shift from anti-nuke to pro-nuclear energy.  If we want clean power at a low cost, nuclear is the answer.
Combustible Engine Technology and Self-Driving Cars
The invention from Israeli-based Aquarius Engines is currently being discussed by France's Peugeot, the firm said. Aquarius says the cost of the engine will be as low as $100 (92 euros). According to the firm, the engine can allow cars to travel more than 1,600 kilometres (990 miles) on a single tank of fuel, more than double current distances.

Such efficiency is vital as countries seek to reduce carbon dioxide emissions—a main cause of climate change. Car engines are a major source of CO2 emissions.
Read more at: https://phys.org/news/2016-10-israel-firm-super-efficient-power-car.html#jCp
Imagine a form of nuclear energy with greater output and virtually no safety issues.
Such is the promise of liquid fluoride thorium reactors (LFTRs), and we've had several past interviews with thorium expert Kirk Sorensen to discuss their potential:
 
Much safer – No risk of environmental radiation contamination or plant explosion (e.g., Chernobyl, Fukushima, Three Mile Island)
Much more efficient at producing energy – Over 90% of the input fuel would be tapped for energy, vs. <1% in today's reactors
Less waste-generating – Most of the radioactive by-products would take days/weeks to degrade to safe levels, vs. decades/centuries
Much cheaper – Reactor footprints and infrastructure would be much smaller and could be constructed in modular fashion
More plentiful – LFTR reactors do not need to be located next to large water supplies, as current plants do
Less controversial – The byproducts of the thorium reaction are pretty useless for weaponization
Longer-lived – Thorium
is much more plentiful than uranium and is treated as valueless today.
There is virtually no danger of running out of it given LFTR plant
efficiency