Nuclear power has long been a contentious topic. It generates huge amounts of electricity with zero carbon emissions, and thus is held up as a solution to global energy woes. But it also entails several risks, including weapons development, meltdown, and the hazards of disposing of its waste products.

But those risks and benefits all pertain to a very specific kind of nuclear energy: nuclear fission of uranium or plutonium isotopes. There's another kind of nuclear energy that's been waiting in the wings for decades – and it may just demand a re-calibration of our thoughts on nuclear power.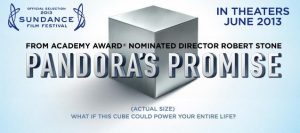 Speaking of alternative energy – still a big fan of nuclear – check out Pandora's Promise.  This documentary covers an environmental activist and writers mind shift from anti-nuke to pro-nuclear energy.  If we want clean power at a low cost, nuclear is the answer.
Combustible Engine Technology and Self-Driving Cars
The invention from Israeli-based Aquarius Engines is currently being discussed by France's Peugeot, the firm said. Aquarius says the cost of the engine will be as low as $100 (92 euros). According to the firm, the engine can allow cars to travel more than 1,600 kilometres (990 miles) on a single tank of fuel, more than double current distances.

Such efficiency is vital as countries seek to reduce carbon dioxide emissions—a main cause of climate change. Car engines are a major source of CO2 emissions.
Read more at: https://phys.org/news/2016-10-israel-firm-super-efficient-power-car.html#jCp
Imagine a form of nuclear energy with greater output and virtually no safety issues.
Such is the promise of liquid fluoride thorium reactors (LFTRs), and we've had several past interviews with thorium expert Kirk Sorensen to discuss their potential:
 
Much safer – No risk of environmental radiation contamination or plant explosion (e.g., Chernobyl, Fukushima, Three Mile Island)
Much more efficient at producing energy – Over 90% of the input fuel would be tapped for energy, vs. <1% in today's reactors
Less waste-generating – Most of the radioactive by-products would take days/weeks to degrade to safe levels, vs. decades/centuries
Much cheaper – Reactor footprints and infrastructure would be much smaller and could be constructed in modular fashion
More plentiful – LFTR reactors do not need to be located next to large water supplies, as current plants do
Less controversial – The byproducts of the thorium reaction are pretty useless for weaponization
Longer-lived – Thorium
is much more plentiful than uranium and is treated as valueless today.
There is virtually no danger of running out of it given LFTR plant
efficiency
Finally, Thorium is getting it's day. First major experiment in 45 years on a Thorium reaction is moving forward.
This unassuming material could change the future of electronics and engineering as we know it. Recent research has unearthed extraordinary properties, including graphene sheets being ten times tougher than steel and exceptionally effective electrical conductors. Amazingly, they are also transparent to visible light – meaning they can be used for conveying information between optical fibres. Although the theoretical study of graphene started in the 1950s, the experimental study of graphene had not been realized until the recent discovery and characterization of exfoliated graphene by Novoselov et al. (2004) and epitaxial graphene by Berger et al. (2004). Because of its fundamental importance in physics as a realization of a relativistic condensed-matter system (i.e. a non-quantum mechanical description of a system of particles), as well as its application potentials in next-generation electronics, research interest in graphene has been rising rapidly. Even though it might take a long time before graphene's full application potentials can be fully realized, graphene is an incredibly intriguing system with a lot more to be explored.
I loved this break down from John Mauldin – Here's his blog and the items that jumped out at me:
MAULDIN: 20 Positive Trends That Will Make You Feel Good About the World in 2018

I ran across a great list from the Future Crunch website recently: "99 Reasons 2017 Was a Great Year."  Here, I'll list some of the best things that happened this year and add my own comments.

Breakthroughs in Medicine

This year, the World Health Organization unveiled a new vaccine that's cheap and effective enough to end cholera, one of humanity's greatest-ever killers. New York Times
Cancer deaths have dropped by 25% in the United States since 1991, saving more than two million lives. Breast cancer deaths have fallen by 39%, saving the lives of 322,600 women. Time
And on November 17, WHOannounced that global deaths from tuberculosis have fallen by 37% since 2000, saving an estimated 53 million lives.

I'm bullish on all kinds of life-extension technologies. I really expect to live well beyond age 100 with all my faculties intact.

One by one, killer diseases like cholera are giving way to humanity's fast-growing medical knowledge. Some of the greatest threats to human beings will be essentially under control within 10 years: Heart disease, arteriosclerosis, cirrhosis, you name it, will have mainstream cures.

And don't even get me started on induced tissue regeneration, which has the potential to reverse your body's aging to the point where you will be—oh, pick an age—let's say, 25 again, but with all of the experience you have today.

All these developments are wonderful news from a human standpoint, but also economically. Think of all the potential genius and innovation the world never sees because disease robs it from us. By preserving these lives, we enhance everyone's life.

Up from Poverty

The International Energy Agencyannounced that nearly 1.2 billion people around the world have gained access to electricity in the last 16 years.
In the last three years, the number of people in China living below the poverty line decreased from 99 million to 43.4 million. And since 2010, Chinese income inequality has been falling steadily. Quartz
The United States' official poverty rate is now 12.7%, the lowest level since the end of the global financial crisis. And the child-poverty rate has reached an all-time low, dropping to 15.6%. The Atlantic

Since the turn of the century some 1.2 billion people have gained access to electricity. That's one of the first steps out of poverty. All the modern technologies that enrich our lives and wallets need electricity to work.

It may be surprising that 12.7% of Americans live below the poverty line. Of course, we define poverty differently than much of the rest of the world does, but we still leave too many people behind through no fault of their own.

Much remains to be done, but I think we've at least noticed the problem now. That's the first step to fixing it.

The rich are also getting richer. The number of households with a net worth of $1 million (measured in 1995 dollars) grew from 2.4 million in 1983 to 10.8 million in the latest survey in 2017, far outpacing average household income growth.

As a nation, I know we worry a great deal about wealth and income inequality, but in general, we are all getting better.

Endless Energy

The cost of solar and wind power plummeted by more than 25% in 2017, shifting the global clean energy industry on its axis. Think Progress

The cost of solar has been plummeting 20–25% a year for years now. By 2030, at the latest, we will not be building any natural gas power plants, other than in areas that receive very little solar energy. There are many places in the world where this is possible now with our current technology. But with the improvements that are coming down the pike? Oh my.

Better Life
Global deaths from terrorism dropped by 22% from their peak in 2014, thanks to significant declines in four of the five countries most impacted: Syria, Pakistan, Afghanistan, and Nigeria. ReliefWeb

Rates of violent crime and property crime have dropped by around 50% in the United States since 1990, yet a majority of people still believe they have gotten worse. Pew Research
Want to know what the richest man in the world worries about? Sure the one in a million astroid impact or volcano…but with a 50% chance of happening…..that's something to think about;